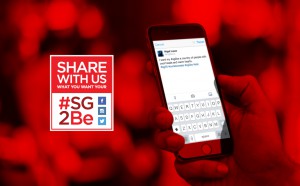 The Key Aspects We Covered
We did a preliminary study of the campaigns planned on being ran during the SG50 were either focused on what Singapore was like in the past and how we started, or focused on where Singapore is today. Our campaign had to stand out and ours looked to the future – what Singapore would be like in 50 years time.
We created a base structure that allowed people from all walks of life to contribute their story to this campaign. With the tagline "Ours to Create", enforces the concept that the future of Singapore and how we envision it does not just belong to others, but the responsibility lies with each and everyone of us. We have to play our part and build Singapore into how we envision her to be.
The campaign had to have a strong branding presence to stand out from the rest of the SG50 campaigns from other organisations in Singapore. We executed the brand not just through the logo and its hashtag but through all our communications from our key visuals, website, MRT station lightboxes, to on-site visuals. We also had control over the photography to ensure that the right emotions were conveyed during the shoot.